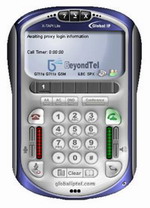 BeyondTel and Global IP today released a Co-branded X-tapi lite/pro, built a strong base in the integration of BeyondTel's USB phone and SIP soft phone.
Powered by X-TAPI, the No.1 SIP-based softphone worldwide, BeyondTel's USB phone has been a full-featured CPE (Customer Premises Equipment) for VoIP. As there is a built-in driver for BeyondTel's USB phone in X-TAPI, subscribers can conveniently use X-TAPI with the USB phone without installing any additional driver or middleware. The combination of X-TAPI and BeyondTel's USB phone is a powerful SIP client solution for ISPs, ITSPs and Carriers.


About Global IP
Global IP Telecommunications, a Pennsylvania corporation, was founded in the summer of 2004 by PMC Ciphers, Inc. (www.pmc-ciphers.com). Through PMC's leadership in speed-optimized encryption and licensing engine technology and through good contacts in Canada, Europe and China, the premises were excellent to found a new company with an international team of specialists to bundle activities in a new and fast growing sector.